A UNIQUE educational experience at the heart of creativity
The Creativity HUB: an exemplary place to imagine and create the world of tomorrow
The entrepreneurship course: a system for daring and managing the innovations of tomorrow
The technological incubator: 30 years of action in the service of innovative business creation projects
A unique educational experience at the heart of creativity
IMT Mines Alès is nationally recognized for having developed strong skills in creativity, innovation and business creation.
For the past 15 years, IMT Mines Alès has been integrating creativity into its teaching methods.
COURSES, SEMINARS, CHALLENGES, MISSIONS... TO UNDERSTAND EVERYTHING ABOUT THE CREATIVE PROCESS. NO SCHOOL HAS GONE THIS FAR!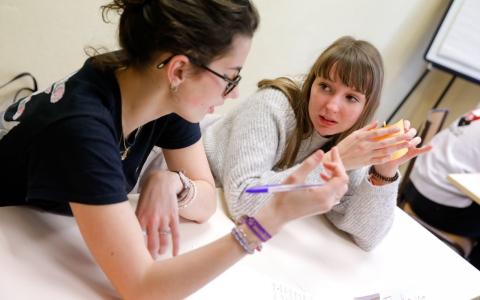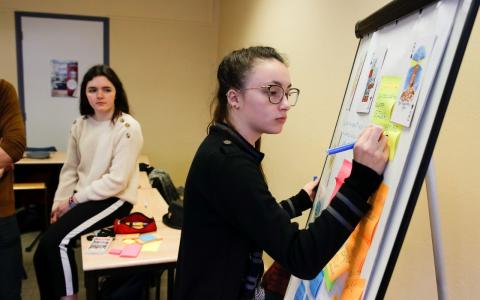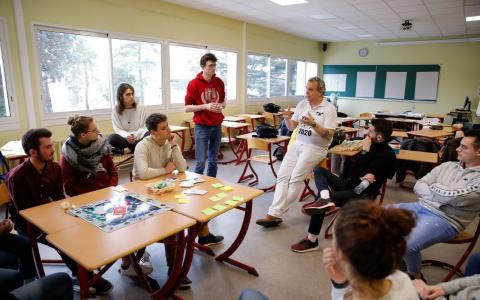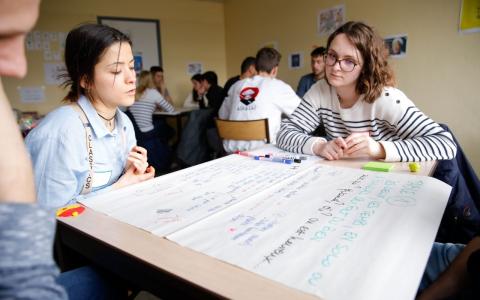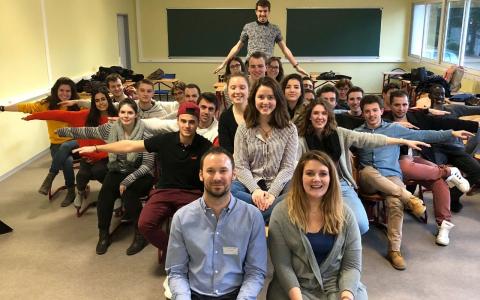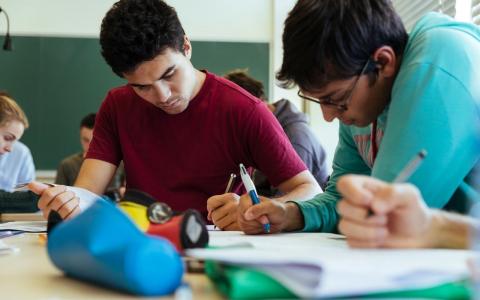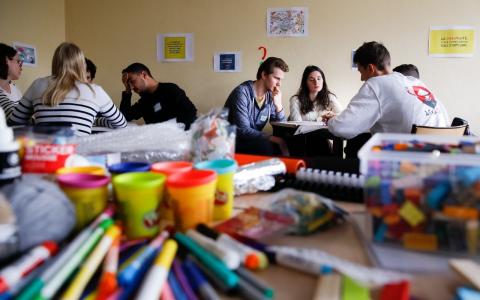 A unique event in France for students. For two days, facilitators from the business and artistic worlds accompany first-year students at IMT Mines Alès to understand the organizational processes of innovation through role-playing.

PARTNERS 2021 : ACCENTURE France, ASSOCIATION LIMOUSINE DES CHALLENGES/LEGRAND, BOUCHARENC, C9 CONSULTING, CAISSE D'ÉPARGNE LR, CRÉDIT AGRICOLE Technologies et Services, DIAMOND CONSULT, DISNEYLAND PARIS, EDF, ERGO SANTÉ, EUROVIA, FRAMATOME, HYGGE, LA POSTE, MYRIAGONE CONSEIL, ORANO, PIXITELA, SAFRAN AIRCRAFT ENGINES

"This seminar offers the opportunity to learn how to benefit from our creativity by finding a concrete solution to a given problem. It also made me realize how important this ability is in the professional world." Adelia ASSELIN

"Working on a concrete project offered by a large company was a great challenge. Thanks to the many tips and experience shared during the seminar, I was able to tap my creative potential and provide an innovative solution as a team." Gwendal BEAUMONT
For 6 weeks, the first-year students take up a challenge on a real subject brought by a company that provides part of the pedagogical follow-up of the project.  The best ideas are rewarded with prizes and promoted in the companies.

PARTNERS 2021: LIMOUSINE CHALLENGE ASSOCIATION, BOUCHARENC, CORA, CRÉDIT AGRICOLE, DISNEYLAND PARIS, ORANO, SAFRAN AIRCRAFT ENGINES

"I have learned a lot from this experience, especially that you don't necessarily have to be an artist to create. But like in the arts, there is a lot to learn and then it is up to you to express yourself." Gaëlle LATTUADA

"An interesting and stimulating team challenge that allows us to become aware of some business issues. It can also help us orient our academic career thanks to the direct contact with our company tutors and their experience." Florian DUMAS
You will have the opportunity to deepen your skills in two elective teaching units: "Building and leading a creativity workshop" and "Design Thinking" as well as during the #TechTheFutur acceleration weekends, which are intense activities based around innovative project leaders and start-ups. The field missions that have students carry out a technical and economic feasibility study for 5 weeks in the heart of companies also contribute to the training of engineers capable of producing innovation and designing new activities.


"A concrete, stimulating and useful project that won't stay in the drawer! It is a unique opportunity to be in contact with a company and to build a network." Ludwig Deguffroy
THE CREATIVITY HUB: AN EXEMPLARY PLACE TO IMAGINE AND CREATE THE WORLD OF TOMORROW
The Louis Leprince-Ringuet science campus, the last phase of which was delivered in 2021, supports IMT Mines Alès' development ambitions: to welcome more students, to group the three research laboratories on a single site and to materialize its leadership in creativity.

The mission of the Creativity Hub is to stimulate creativity in all the school's activities, for the benefit of its students, staff, companies and the general public.
It features a large hall and an open stage with 130 seats. An inclined walkway leads to the upper levels where there are self-service rooms for group or individual work, as well as numerous rooms or spaces for creativity. A large room that can accommodate up to 70 people allows for inspiring and ergonomic conditions to organize creativity sessions, quality meetings or seminars, even thesis oral exams... The balcony accessible from the top level offers one of the most beautiful views of Alès and its surroundings.

The Hub is home to the incubator, the creativity coordinator and the Croupillac site reception desk.
On the ground floor, there is also a cafeteria open all day. On the first level, there is a reading area where books related to creativity, entrepreneurship and technology are available.
The Hub is thus a source of creative life in the Croupillac campus where anyone can come and relax, reflect, seek inspiration or have a meal!
The inspiring architecture came from Emmanuel Nebout. The hall is adorned with the work of Mathieu Merlet-Briand, inspired by the chromatic circle of Johannes Itten. The 12 panels of the work reflect our motto, which is particularly well suited to this building: "Science and creativity to invent a sustainable world".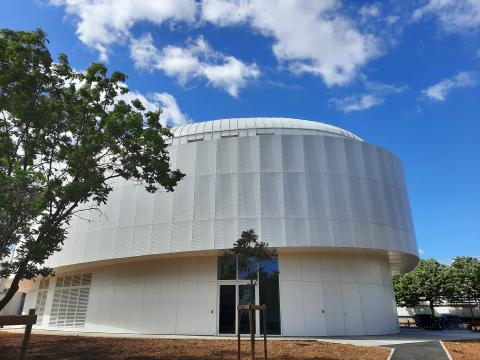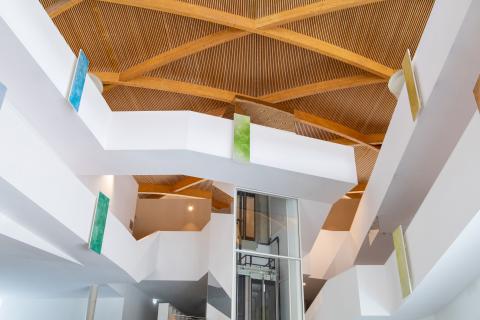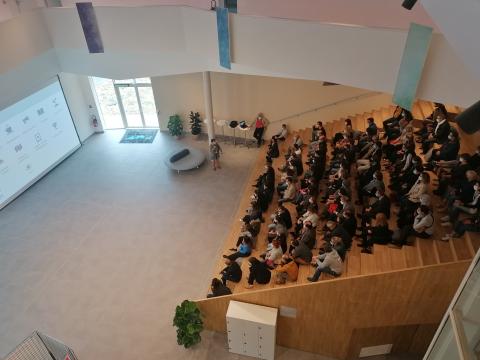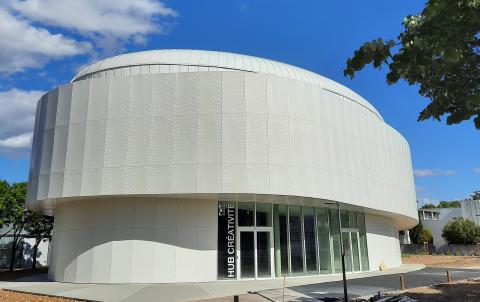 THE TECHNOLOGY INCUBATOR: 30 YEARS OF ACTION IN SUPPORT OF BUSINESS CREATION PROJECTS
IMT Mines d'Alès knows a thing or two about incubation! It was IMT Mines d'Alès that set up the first technology incubator within an engineering school 30 years ago.

The IMT Mines Alès incubator is dedicated to supporting innovative business creation projects based on technologies related to the fields of specialization of the IMT Mines Alès research centers.
12 to 36
months to validate the project